My Blog
Posts for: July, 2014
By John G. Fisher, DMD
July 23, 2014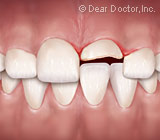 When a permanent tooth has been injured, our first priority should be to save it. A root canal treatment (where the interior pulp of the tooth is removed and the pulp chamber and root canals are filled and sealed) is usually the best approach for tooth preservation.
An immature permanent tooth, however, presents a different challenge. While the pulp is less essential to a mature tooth's vitality, it serves a critical purpose in the tooth's early development before early adulthood. The pulp produces layers of dentin necessary for the tooth's root system development. Completely removing the pulp at this stage may retard root development and cause the tooth to eventually weaken, and become brittle and darkened.
For younger teeth, we should therefore use alternative techniques that preserve as much healthy pulp as possible. One of these alternatives is Indirect Pulp Therapy, used when the pulp hasn't been exposed by the trauma. With this technique we remove as much damaged dentin as possible while preserving the harder dentin closer to the pulp. After applying an antibacterial agent to protect against infection, and then filling and sealing the tooth, the pulp can continue to produce dentin in a normal way.
If pulp exposure has occurred, some form of pulpotomy — the partial removal of any damaged or infected pulp — would be in order. Our goal here is to leave as much of the pulp as possible, and then apply substances that stimulate the remaining pulp to create dentin. The most common type of growth substances are calcium hydroxide or mineral trioxide aggregate (MTA).
If the pulp isn't at all salvageable, we may then turn to a procedure known as apexification. After removing the pulp we insert MTA at the root end of the tooth, then fill and seal the remaining interior as in a regular root canal treatment. The MTA will help the surrounding bone to heal and continue to grow around the root to further support the tooth.
Recent research into pulp stem cells promises further advances in this area. The regenerative qualities of stem cells could eventually help us "engineer" root development. Until then, there are still effective ways to give a young, damaged tooth a fighting chance to survive.
If you would like more information on preserving injured teeth, please contact us or schedule an appointment for a consultation. You can also learn more about this topic by reading the Dear Doctor magazine article "Saving New Permanent Teeth After Injury."
By John G. Fisher, DMD
July 15, 2014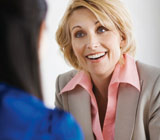 Dentistry can accomplish some amazing smile transformations. But these advanced techniques and materials all come with a price. Additionally, your dental insurance plan may be of limited use: some procedures may not be fully covered because they're deemed elective.
It's important then to review your financial options if you're considering a major dental procedure. Here are a few of those options with their advantages and disadvantages.
Pay Up Front. It may sound old-fashioned, but saving money first for a procedure is a plausible option — your dental provider, in fact, may offer a discount if you pay up front. If your condition worsens with time, however, you may be postponing needed care that may get worse while you save for it.
Pay As You Go. If the treatment takes months or years to complete, your provider may allow you to make a down payment and then pay monthly installments on the balance. If the treatment only takes a few visits, however, this option may not be available or affordable.
Revolving Credit. You can finance your treatment with a credit card your provider accepts, or obtain a medical expenditure card like CareCredit™ through GE Capital that specializes in healthcare expenses. However, your interest may be higher than other loan options and can limit the use of your available credit for other purchases. In addition, some healthcare cards may offer interest-free purchasing if you pay off the balance by a certain time; however, if you don't pay off the balance on time, you may have to pay interest assessed from the date you made the purchase.
Installment Loans. Although not as flexible as revolving loans, installment loans are well-suited for large, one-time purchases with their defined payment schedule and fixed interest rate. Some lenders like Springstone℠ Patient Financing specialize in financing healthcare procedures, and may possibly refinance existing loans to pay for additional procedures.
Equity Loans. These loans are secured by the available value in an asset like your home. Because they're secured by equity, they tend to have lower interest rates than credit cards or non-secured installment loans. On the downside, if you fail to repay, the lender can take your property to satisfy the loan.
To determine the best financing route for a dental procedure, be sure to discuss your options with your financial advisor and your dental provider.
If you would like more information on financing dental care, please contact us or schedule an appointment for a consultation. You can also learn more about this topic by reading the Dear Doctor magazine article "Financing Dental Care."