My Blog
Posts for: August, 2013
By John G. Fisher, DMD
August 21, 2013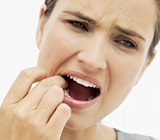 Don't ignore tooth pain hoping it goes away. No matter how mild or fleeting it may be, it's a sign that something's wrong. Healthy teeth shouldn't cause discomfort because the parts containing the nerves — the interior pulp and the dentin around it — are shielded by dental enamel and gums.
Here are some common reasons that teeth ache:
Gum Recession. Over time, gums can recede. Improper or excessive brushing can affect them, especially if you are genetically predisposed by having thin gums. When gums retreat, dentin can, or eventually will, be exposed. Besides its susceptibility to sensation, dentin is also more vulnerable to erosion and decay than enamel.
Tooth Erosion/Decay. When acid-producing oral bacteria get the upper hand, they can eat through the tooth's protective enamel to the dentin. You may start feeling sensitivity as the decay gets deeper and closer to the pulp (nerves). Only removal of the decay and filling the cavity can stop the process.
Old/Loose/Lost Filling. Fillings seal off areas of past decay. If they don't fit right or are dislodged altogether, air or food particles can slip inside and irritate exposed nerve endings. A crevice to hide in makes it prime real estate again for bacteria, too.
Cracked Tooth. Teeth grinding and jaw clenching can have a similar impact on teeth that a miner's pick has on rock. At first thin lines in your enamel can develop, then cracks develop that may expose the dentin, and finally the tooth might fracture, exposing the pulp. The earlier this process is caught, the better.
Pulp Tissue Infection/Inflammation. This can be caused by deep decay or trauma and suggests your tooth may be in its death throes. Sometimes the pulp infection travels into the surrounding periodontal (peri – around; odont – tooth) tissues and causes an abscess to develop. This absolutely requires immediate attention.
Residual Sensitivity from Dental Work. Removal of decay before placing a filling can cause tooth sensitivity. It can take 1-4 weeks or so to improve.
Sinus Pain. Congestion can cause "referred" pain in the upper teeth. When the congestion subsides, the pain should, too.
As you can see, it's risky to discount tooth pain and "wait 'til it goes away." Our office can help you determine the origin of your pain and the best course of action to resolve it. When in doubt, it's always better to err on the side of caution!
If you would like more information about tooth pain and ways to prevent or treat it, please contact us or schedule an appointment for a consultation. You can also learn more about this topic by reading the Dear Doctor magazine articles "Tooth Pain? Don't Wait!" and "Sensitive Teeth."
By John G. Fisher, DMD
August 06, 2013
We're always tickled to see dentists represented in popular culture, especially when portrayed by an actor as handsome as John Stamos. On the hit television show Glee, Stamos played a dentist who made sure the glee club members cleaned up their act when it came to oral hygiene — though perhaps he used a bit too much anesthesia to achieve this admirable goal. While under his care — and lots of sedation — several Glee characters had music-infused hallucinations in which they danced and sang with pop star Britney Spears.
Far-fetched? No doubt. Still, it's worth mentioning that sedation has its place in dentistry. In fact, if you are someone who tends to get anxious or even fearful about dental treatment, you should know that sedation can help you relax both mind and body so you can feel peaceful rather than anxious in the dentist's chair. And that's the whole point: Fear of pain should not stand in the way of your getting the care that will keep you healthy and allow you to keep your teeth for as long as possible.
You may not know this, but when you are afraid, your threshold for pain is actually lower. You become hypersensitive to every sensation and sound, and you tense your muscles. Fear and anxiety trigger the release of certain chemicals that put you in "fight or flight" mode. In this heightened state of alert you experience more pain during and even after treatment.
The good news is that this response can virtually be eliminated with various oral sedatives and/or with nitrous oxide, which is inhaled. Both treatments will allow you to let your guard down and relax. Your apprehension and hypersensitivity to pain will disappear, even though you are still conscious. And when you are relaxed, we are better able to focus on the task at hand, knowing that you are comfortable.
The sedatives used in dentistry have been subjected to rigorous testing and have a strong safety record backed by decades of use. Several even have "amnesic" properties, meaning that you will remember little to nothing of your treatment — unless, of course, you end up singing and dancing with Britney Spears!
If you would like more information about sedation in dentistry, please contact us or schedule an appointment for a consultation. You can also learn more by reading the Dear Doctor magazine article "Oral Sedation Dentistry." Dear Doctor also has more on "Overcoming Dental Fear & Anxiety."